Please read the Rules Book first for more information!
You can download it from here.
All protective equipment must be approved by SKIF!
Hand protectors
Official kumite gloves of the World Championship is Hisho.
In kumite, the following protective equipment is compulsory: white mitts (gloves) and a
white or transparent gum shield (without markings). Groin protectors are allowed, but not
compulsory. Shin protectors are forbidden. Female competitors may in addition wear a
chest protector under the karate-gi.
The gloves should look as follows:
Note that we will only accept one group order per country participating in the world championships. Individual orders will NOT be accepted. Payment and exchange of goods will be at reception (during the world championships).
You can download the order form from here:

Limited number of gloves will be also sold during the tournament at the venue.
Karate GIs
Dress code for contestants:
Any athlete wearing a karate-gi made from thin see-through fabric or that includes mesh will not be allowed to compete. The only karate-gi markings that are permitted, aside from one's personal name (which should be written vertically in the lower right- hand corner of the karate-gi jacket, above the manufacturer's label), are a SKIF logo patch (either the Shotokan tiger mark or the vertically written Chinese characters) and a national flag on the left breast of the jacket. If there is a SKIF logo or the Chinese characters on the left breast of the jacket, the national flag may be worn on the left sleeve. Also, the label of the manufacturer may be on the right-hand side of the hemline of the karate-gi jacket. If the logo of the manufacturer appears anywhere else (chest, shoulder, upper back, etc.), it must be smaller than 5 cm square and covered using white fabric sewn on with thread (covering the logo with tape is not permitted). Any karate-gi with a logo or embroidery larger than 5 cm square will not be allowed.
The following karate-gi are NOT allowed: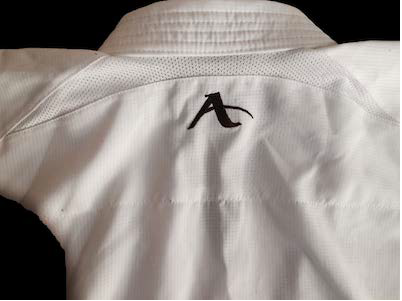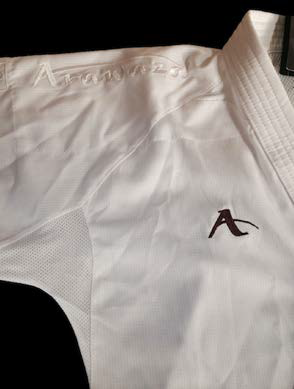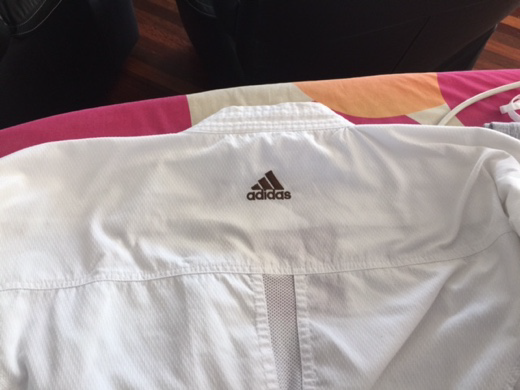 The identifying number issued by the organizing committee of the tournament must be worn on the back, attached to the karate-gi or preferably the belt.
For KO-HAKU matches, one contestant must wear a red belt with his / her own belt.
The jacket worn with a belt must have a minimum length so that it covers the hips, but covers no more than three-quarters from hip to knees. Female competitors may wear a
plain white t-shirt beneath the karate-gi jacket.
The jacket sleeves must be no longer than to the bend of the wrist and no shorter than halfway down the forearm. Jacket sleeves may not be rolled up (inside nor outside).
The trousers must not cover the ankles, but be long enough to cover at least two thirds of the shin and may not be rolled up (inside nor outside).